Orrco Brass Hose Nozzle: The Ultimate Gardening Companion for Effortless Watering
August 22, 2023
In today's competitive business landscape, optimizing costs while maintaining product quality is essential for sustainable growth. For businesses in need of precision components, one effective strategy to achieve cost efficiency is by ordering screw machine products in bulk quantities. There are several reasons why opting for large quantity orders of screw machine products can lead to substantial savings and improved profitability.
Economies of Scale:
One of the most significant advantages of ordering screw machine products in bulk quantities is the realization of economies of scale. At Orrco, we are able to capitalize on the principle that as production volume increases, the cost per unit decreases. This cost reduction is a result of spreading fixed expenses, such as setup costs and tooling expenses, across a larger number of units. By producing a larger batch of components, we can significantly lower the per-unit manufacturing cost, ultimately leading to substantial savings for our customers.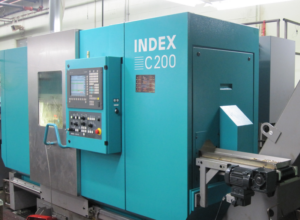 Reduced Setup Costs:
Screw machine setup costs are a significant contributor to the overall cost of production. These costs encompass machine preparation, tooling adjustments, and configuration changes required before production begins. Ordering in larger quantities spreads these setup costs over a larger production run, effectively distributing the cost burden. Consequently, the cost per unit is notably lower when compared to producing smaller batches.
Streamlined Production Processes: Bulk orders of screw machine products enable us to streamline our production processes. With a larger production run, there is less need for frequent setup adjustments and changeovers. This continuity results in increased efficiency, reduced downtime, and enhanced productivity. Moreover, streamlined production processes often translate to shorter lead times, allowing our customers to meet their needs more promptly.
Inventory Management:
Bulk orders of screw machine products facilitate more effective inventory management. Maintaining a surplus of components can help businesses avoid shortages, stockouts, and production disruptions. With ample inventory on hand, customers can also take advantage of price stability and shield themselves from potential price fluctuations in the market.
Long-Term Partnerships:
Consistent, large-quantity orders help to foster stronger relationships with our customers. Over time, we become more and more familiar with a customer's requirements, preferences, and quality standards. This level of understanding can lead to improved collaboration, better communication, and customized solutions that cater to the specific needs of the business. Such partnerships can ultimately result in cost savings and optimized production processes.
In a competitive business environment where cost efficiency is paramount, ordering screw machine products in bulk quantities stands out as a smart strategic choice. The benefits of economies of scale, reduced setup costs, streamlined production processes, improved inventory management, and the cultivation of long-term supplier relationships all contribute to significant cost savings and improved profitability. Orrco specializes in large production runs of custom precision parts that help our customers achieve a winning combination of quality, efficiency, and economic value.