Maximizing Savings: The Economic Advantage of Ordering Screw Machine Products in Bulk Quantities
September 25, 2023
September 25, 2023
In today's competitive business landscape, optimizing costs while maintaining product quality is essential for sustainable growth. For businesses in need of precision components, one effective strategy
[…]
August 22, 2023
Maintaining a lush and vibrant garden requires more than just green thumbs—it necessitates the right tools. If you're a gardening enthusiast or simply looking to enhance
[…]
Maintaining a lush and vibrant garden requires more than just green thumbs—it necessitates the right tools. If you're a gardening enthusiast or simply looking to enhance your outdoor watering experience, Orrco's brass hose nozzle is a game-changer.
Orrco's Brass Hose Nozzle is a premium-quality hose nozzle designed to make watering your garden, lawn, or plants a breeze. Made in the USA and crafted with precision engineering and durability in mind, this nozzle offers a range of features that set it apart as an essential gardening tool.
Key Features: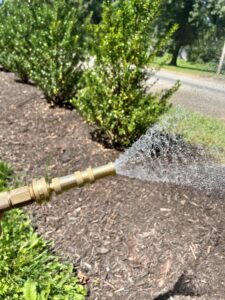 Solid Brass Construction: Orrco's brass hose nozzle boasts a robust construction made from high-quality solid brass. This not only ensures longevity but also provides excellent resistance to corrosion, making it suitable for outdoor use in various weather conditions.
Adjustable Water Flow: Customizing the water flow to suit different watering needs is effortless with the adjustable nozzle. Whether you need a gentle mist for delicate flowers or a powerful jet stream to tackle stubborn dirt, our nozzle has you covered.
Ergonomic Design: Comfort is key when spending time tending to your garden. The ergonomic design of the nozzle's handle ensures a comfortable grip, allowing you to water your plants for extended periods without strain.
Leak-Resistant Design: Orrco's brass hose nozzle features a leak-resistant design, preventing wastage and ensuring that your watering efforts are directed precisely where they're needed.
Versatile Applications: From watering plants and flowers to washing your car or cleaning outdoor surfaces, this nozzle's versatility makes it an indispensable tool for a variety of tasks.
Made in the USA: Orrco's hose nozzle is manufactured and assembled in the United States. USA manufacturing goes hand in hand with high quality, reliable products.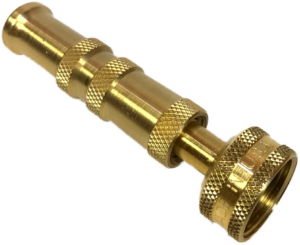 Customers who have purchased Orrco's brass hose nozzle have expressed their satisfaction with its performance. Many users highlight the sturdy build quality, ease of use, and versatility that the nozzle offers. Whether it's achieving a fine mist for delicate plants or a powerful stream for cleaning purposes, users appreciate the nozzle's ability to adapt to different needs.
Orrco's Brass Hose Nozzle (currently sold on Amazon) is more than just a gardening tool—it's a gateway to efficient and enjoyable watering. With its durable construction, adjustable water flow, ergonomic design, and leak-resistant features, this nozzle has become a favorite among gardening enthusiasts and outdoor maintenance aficionados. Invest in the ORRCO Brass Hose Nozzle and elevate your gardening game to new heights while conserving water and maximizing efficiency.